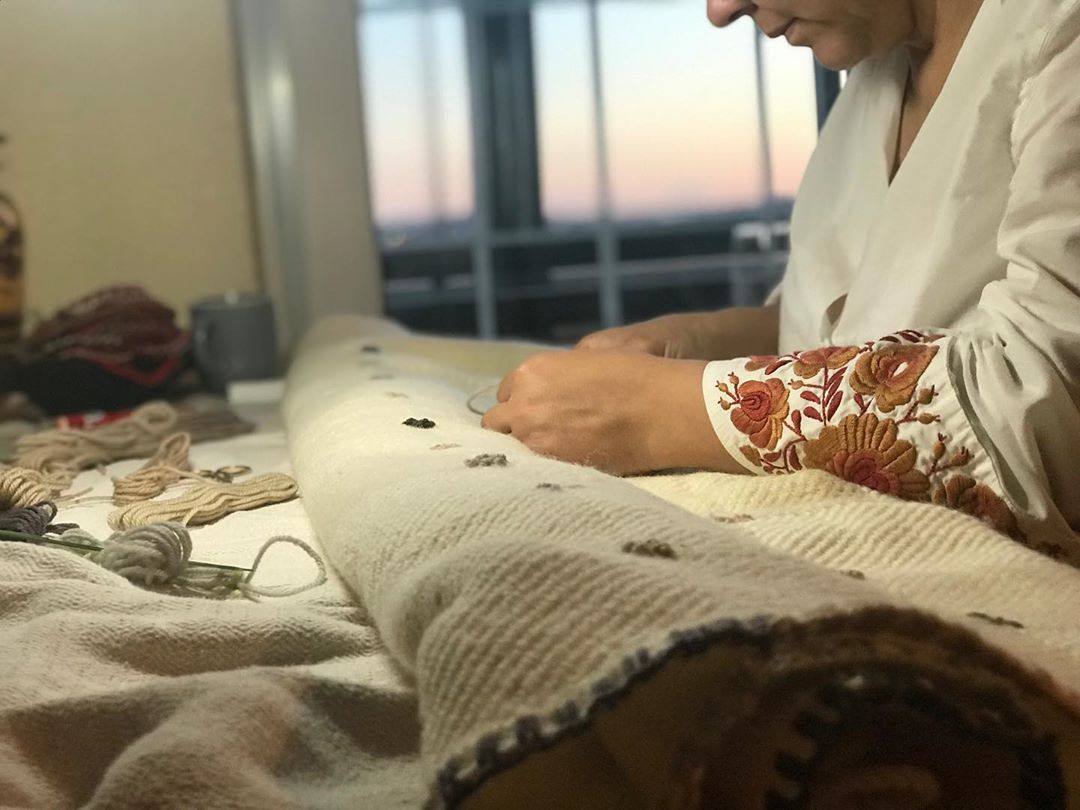 Embroidery
While traveling through Hungary it is easy to become fascinated by its rich lineage and diversity of textiles. Much of what I found was not only hand-woven but embellished with embroidery. The colors and patterns used were clearly culturally significant. Having a background in Anthropology this discovery fuelled my curiosity and life-long passion for understanding our lineage histories through arts and craft.
Compelled to dig deeper, I returned and continued to collect textiles in a dream state, imagining how we might restore, capture and design our way into a conservation project, using commerce and culture to guide and support us. I hired a translator, driver and guide, and we both set out to see what we could make happen.
We were incredibly naive and ignorant to the vast riches we were yet to uncover. Akin to a Sleeping Beauty story, textiles have been stashed away for decades just waiting to be discovered. Kept safe as lineage treasures they once were a sign of wealth and prestige throughout Eastern Europe. Not long ago, they were used for every occasion: seasonal rituals, rites of passage, religious adornment, marriage dowries and everyday living.
My research and travels revealed how embroidery is intrinsically linked and deeply embedded into the landscape of traditional Hungarian culture. The lineages and mythological symbols still used today are traceable through millennia, back to the nomadic Hungarians (or Magyars) who settled here in their present-day home a thousand years ago. The tree of life, sunflowers, and many other pagan and ritual symbols are universal and here they were on an apron, towel, blanket, how exciting!
As people shifted geographically, new styles emerged, cultures and ideas cross-pollinated with one another. There was widespread migration into Hungary from surrounding countries as well, especially following the Ottoman invasion, resulting in a vast, rich confluence of cultures. Thus, the craft of stitchery has been on an ever-evolving creative journey.
Our company is located in Baranya county, which is ethnically the most colourful county of Hungary: apart from the Gypsy or Roma population, 14 minorities from all across Europe have settled here. We are surrounded by this dazzling richness and have access to what diversity remains.
Through pure serendipity, we found Cecilia, a Hungarian artisan whose embroidery work masterfully combines traditional methods with contemporary application. She is one of the last of her generation engaged in keeping her heritage relevant and alive. Cecilia is what I have termed a "Culture Keeper", a candle in the window of her and our history, still burning bright.
We intended to recruit Cecilia to lead our restoration and embroidery design and development work. However, she was chosen by the Hungarian government as one of 20 women to take part in a 2-year course to study every heritage design and lineage stitch recorded though-out Hungary. While Cecilia is steeped in her studies, she is still our go-to expert and creative embroidery genie. Her guidance is regularly sought out when we develop new designs using this technique. Cecilia also comes to our office/studio to train and teach our collective of artisans, expertly passing on her knowledge.
Each embroidery stitch and design is symbolic with a unique name. 'Eye of the Needle Margarita', 'Chicken eye (spot on your foot) Margarita' are two embroidery designs Cecilia used to embellish our merino wool throws. They sound funny in English because we don't have the words/vocabulary to describe them. Illustrated below, they are flower shaped and simply sweet.
Moving forward, our vision is designed to include training artisans while incorporating their skills to adorn our textiles. Whether they are restoration pieces or new, each one carries the essence of artisan craft. This is how we sustain lineage traditions: by keeping them alive and relevant.